What Are the Different Types of Partitions (And Their Benefits)?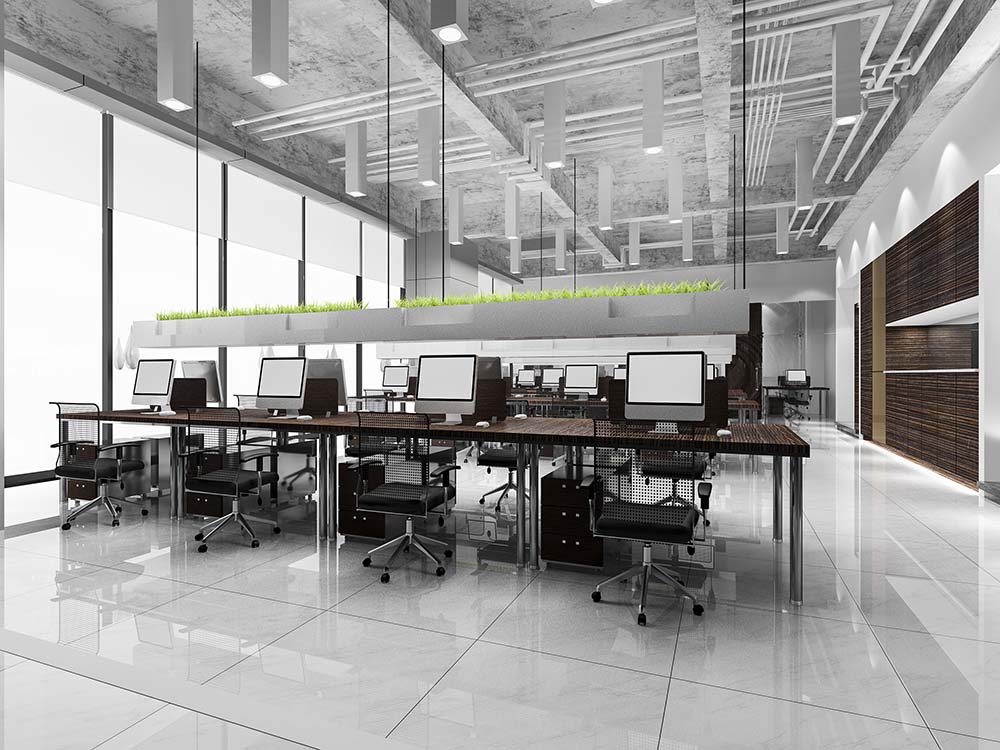 Very rarely will you walk into an office which doesn't have any partitions whatsoever. Whilst some do certainly embrace an open plan vibe, there will often be a partition or two to be found somewhere, whether it is separating the snack/break area, or walling off the conference room. Partitions are more or less an essentiality in the office place. They come in many different forms and have a wealth of benefits that you can take advantage of with your next office renovation.
In this article, we are going to highlight the different types of partitions and how they can impact your office and the way that your employees operate. Want to know more?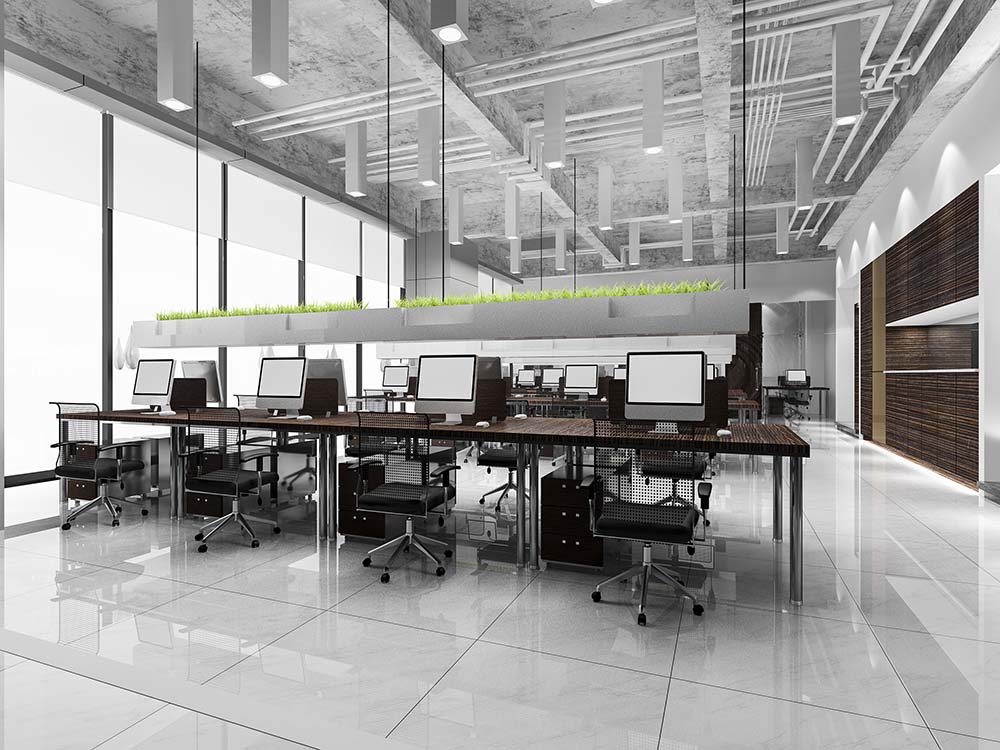 What are partitions?
Partitions are—as the name suggests—well, partitions. They are a divider of sorts, made from a wide range of materials. These dividers offer a fast and easy way to optimise your workspace to fit future expansions of evolving needs. In addition to that, a partition is an inexpensive, cleaner, and less permanent solution to having walls installed.
The great thing about buying modern partitions is the fact that you can have them installed incredibly quickly. They will last you a long time, despite the fact that they can be moved around as often as you like (depending on the type of partition, that is).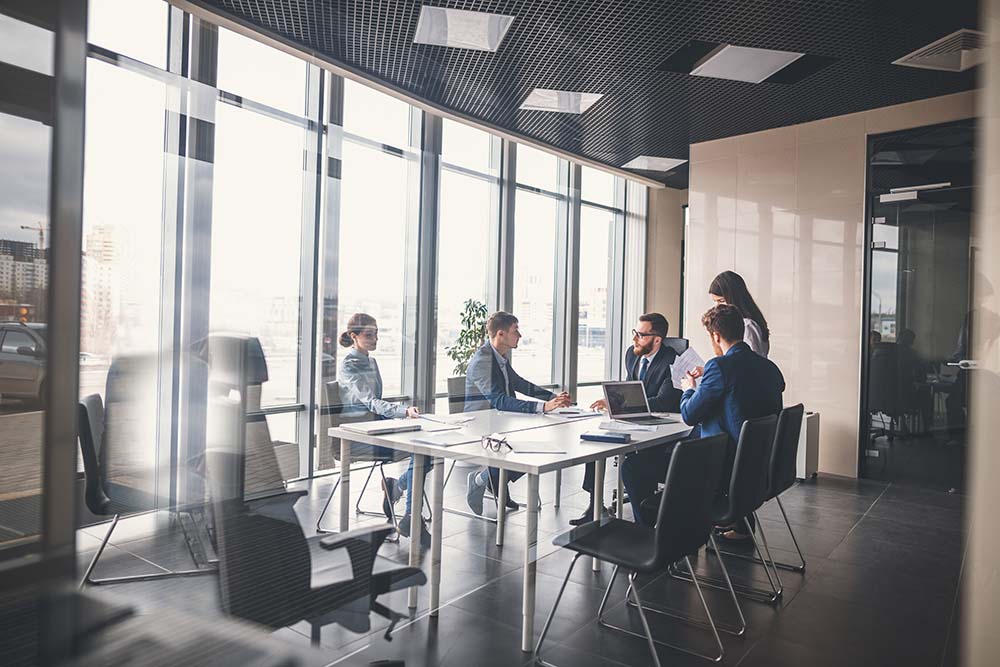 What are the different types of partitions?
There are many different types of partitions to be found…
Aluminium partitions
Aluminium is an affordable material that can come in a wide range of colour options, designs, and combinations.
Steel Stud Partitions
Steel Stud Partitions are quick, lightweight, and strong. They make a great alternative to using timber frames and can add a wonderful industrial aesthetic. In addition to that, it is easy to fit electrics and plumbing into the steel stud cavity.
Lined Walls 
Lined walls are not exactly partitions, but work in a similar fashion. They are lined walls which are built close to the main, structural walls of your office. The space between the lined walls and the external walls can be used to run services behind, leaving a nice, flush finish.
Glass Partitions (aluminium framed)
Glass partitions with aluminium framing are among the most commonly used office partition options. They are made of up glass with an aluminium framing and are either half height, or floor to ceiling.
Another great benefit of using glass partitions is the fact that you can have blinds installed. That way, you can allow plenty of natural light through, and then close the blinds when you need a bit of privacy, say, for a disciplinary meeting with an employee, or a VIP client meeting.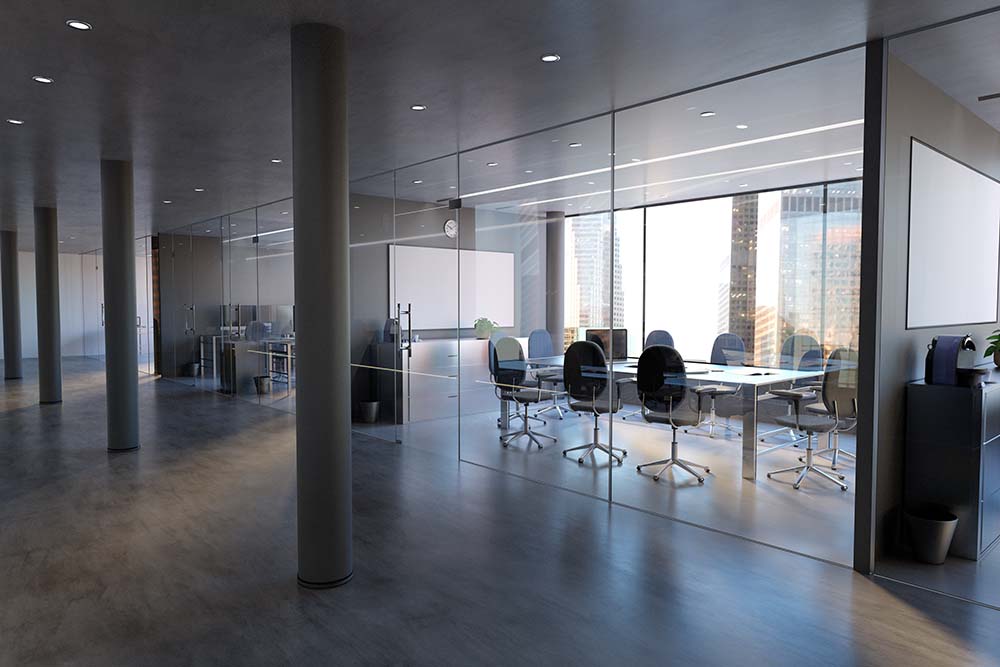 Floor To Ceiling Partitions
Most traditional offices will use floor to ceiling partitions to divide a large space into several smaller spaces. These don't necessarily enclose your employees fully, but can create a sound barrier and prevent your staff from distracting one another.
These types of partitions are easy enough to move around without facing too many difficulties. Thus, whenever you need to mix it up and add a more secluded space, you can do so.
Cubicles
Cubicles are the most basic type of office partition that you will be most familiar with. These are often referred to as half-height office dividers, though they do offer employees plenty of privacy when they want to keep their heads down and crack on with work.
The great thing about cubicles, is that they can be optimised in all-manner of different ways.
Accordion Walls
Accordion walls are easy to move between locations and make a wonderful portable option. They can fully enclose a space being divided, by folding out or closing in the various panels.
Portable Office Dividers
Another great portable partition option; these partitions are built on rollers, making them among the easiest to move around. These are typically used as a temporary solution for dividing your office space. That said, their noise reduction and privacy aren't as good as the other alternatives.
The Benefits of Using Office Partitions
There are so many benefits that come with using office partitions.
1 – Your office is forever evolving
Being able to optimise your office space on the fly as and when new employees join/leave is a huge benefit. Your office space is always evolving and having portable partitions at your disposal will allow you to accommodate the changes.
2 – Privacy is key
Some people need their privacy in order to work at their most optimal. While others are happy thriving in a busy and open-plan environment, many people like to be able to work alone in privacy when the mood takes them.
3 – Fewer distractions
In some cases, it is best to separate different teams or departments, allowing them to work closely together, with fewer distractions from other people in the office. With an easy to set-up partition, you can create a distraction-free zone for those who need to crack on.
4 – Noise reduction
With the right optimisation, office partitions can be excellent at reducing the amount of noise that your office produces. Again, some people need their peace and quiet to work, so having a well-placed partition can work wonders in noise reduction and helping others to work at their very best.
5 – So much variety
There are countless styles of partition that you can choose from, each with their own unique benefits. The great thing about having so much variety, is that you'll have no trouble finding the perfect fit for your office and individual requirements.
If you'd like to know more about the various types of partitions available for the office space, check out a reputable supplier like Alpha Ceilings & Partitions. With the right approach, you will have no trouble transforming your office space and bolstering employee morale and productivity!